Home
Welcome to the official website of our Honours Community, Think Big: it's an Honour!
This site has been developed by the Honours Community of the Faculty of Social and Behavioural Sciences of Utrecht University. Our aim is to keep you posted on the latest activities and information regarding our Honours Community!
Be sure to read our Honours Magazine: "Think Big: it's an Honour", which will be released in the beginning of february. The theme of our magazine is Revolution, and consists many articles, interviews and creative pieces regarding social and behavioural sciences, education and mental health care. Both (Honours) students and professionals share their interests, opinions and latest experiences within this theme.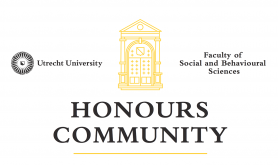 Do you have ideas, questions or comments regarding our Community? Please contact us via: redaccie.honoursfsw@gmail.com.
Bewaren