Magazine Committee 2019-2020
We are pleased to introduce the 2019-2020 honours magazine committee:
Willemien Schouten (clinical psychology)
Marijn Sterre Huijers (social psychology)
Linde Bekkers (sociology)
Noor Geluk (social- and health psychology)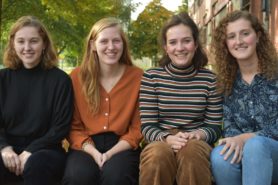 Dear readers, we're the magazine committee of the Honours Community for 2019/2020! This year we will be responsible for the monthly newsletter, the Honours magazine, the website and the creative challenge booklet. We're very proud to see how much the editorial committee has grown in the last couple of years. Our newsletters are read by over a 100 subscribers and since 2020 we're bringing new life into the Think Big: It's an Honour website. The theme of our magazine this year is 'Revolution' and will be filled with interesting articles, interviews and news about the community. We're hoping that you will have as much fun reading it as we had while making it!